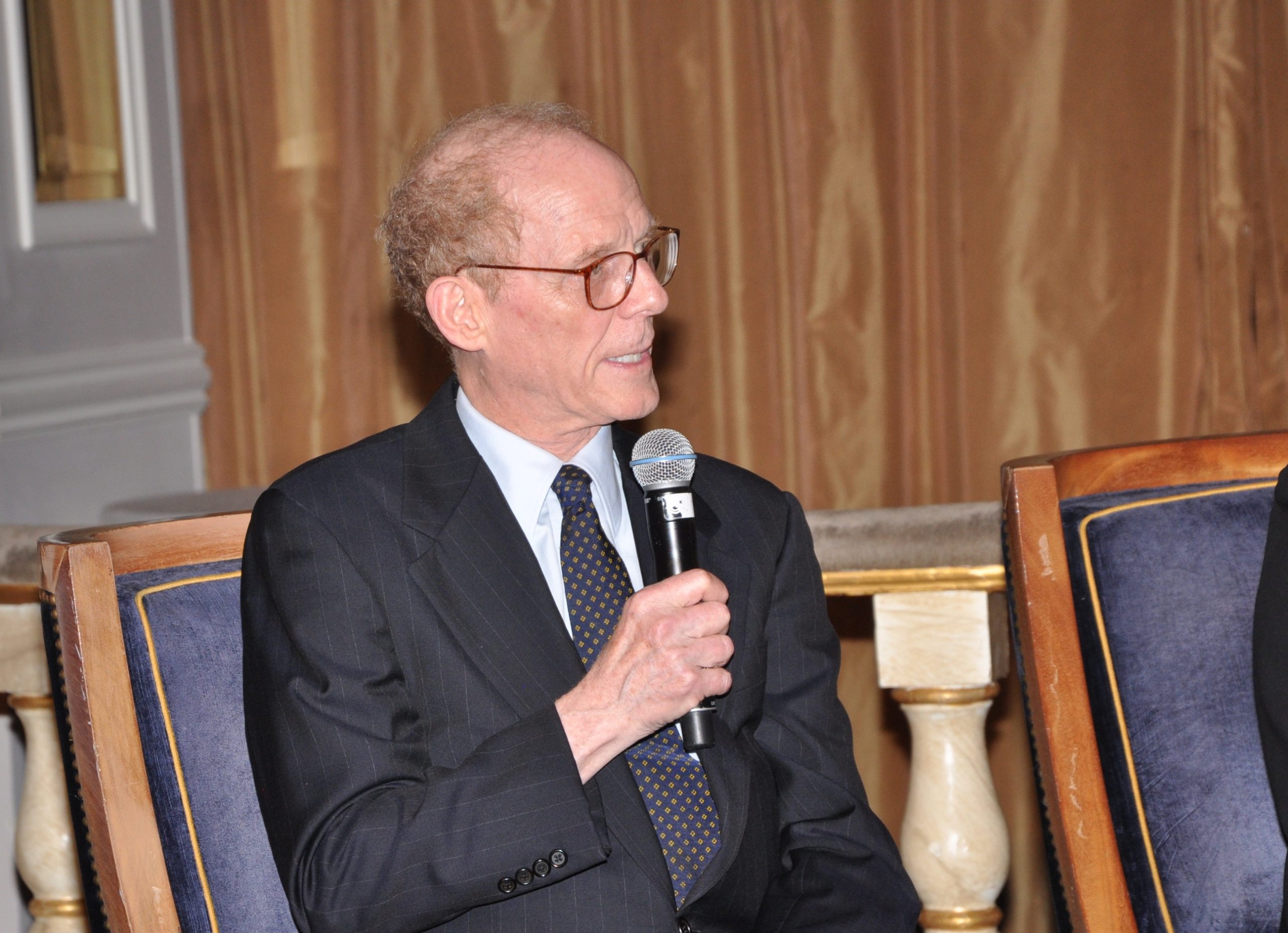 Michael Brooks first learned about warm Jewish communities growing up in Spokane, Washington, and Eugene, Oregon, but only started to understand them after he left home. Having parents whose own family traditions represented the best of Polish hasidism and Russian socialism may have helped lay the foundation for Michael's later professional conviction that healthy community boundaries are needed as much to keep things in as to keep things out.
As an undergraduate at Brandeis University and as a graduate student at Harvard, the Hebrew University in Jerusalem, and the University of Michigan, Michael embarked on a life-long journey of exploration into the relationship between a community's texts, values, and public culture. Along the way, he and his wife Ruth were among the co-founders of the Havurah Shalom community in Boston, an experience that left him with an indelible appreciation for what a Jewish community can and cannot be. During his years of graduate study he also served as Principal of the Hebrew high schools at Temple Emunah in Lexington, Massachusetts, and at Congregation Shaarey Zedek in Southfield, Michigan, and as Lecturer in the Program on Studies in Religion at the University of Michigan. He has also taught on the faculty of the Brandeis-Bardin College Institute and the Wexner Graduate Fellowship Summer Institute.
In 1980 Michael Brooks became Executive Director of the University of Michigan Hillel, an opportunity which provided a laboratory for many of his ideas about boundaries, public culture, and community membership. Michael lectures and consults throughout the country for federations, synagogues, and Jewish community centers on strengthening and stretching the boundaries of the Jewish community, and translating to other communal settings many of the important principles which have made the University of Michigan Hillel such a remarkable success.
Among his many wonderful teachers Michael counts his children, Hava and Ezra, from whom he has learned one of the fundamental principles of community change, namely that it is often easier to ask for forgiveness than to ask for permission. He is grateful, as well, to the thousands of students he has been privileged to work with who have helped him to understand that while conductors may not personally get to make as much music as they might like, they enjoy the incomparable pleasure of helping the orchestra to shine.
Michael Brooks' Statement of Motivation and Purpose:
"A commitment to become a Jewish educator arguably begins even before one is born. Looking back on my life thus far, it is clear to me that so many of my decisions have been the playing and working out of issues raised and choices made by earlier generations. My mother, the product of a hasidic home in Poland, became an ardent Zionist and left in the 1930s as a teenager for Palestine, where she ended up fighting alongside Jabotinsky. My father, born in the United States, returned at the same time with his family – committed socialists all – to Russia. Though my two sets of grandparents never met each other, and would likely have had little to say to each other if they had, both left me a legacy of passion for Yiddishkeit, as they understood it, and a profound sense of responsibility for my fellow Jews, even – and perhaps especially – those with whom I disagree.
My own serious Jewish education began when I left for Brandeis University. There, I was first exposed to serious Jewish textual study and developed a special relationship with two teachers, Professors Nahum Glatzer and Alexander Altman…. At the urging of a close friend, I ventured into Professor Altman's class on classical Jewish thought, and what I experienced was nothing short of overwhelming….
That night I had a dream – the only recurring dream in my life, and one which revisits me every few years. Here it is: In my dream I am living in a three-story house and am opening a closet in one of the third-floor garret rooms. Although I have lived in the house all my life, I notice a door on the sloped ceiling of the closet, a door which can't possibly be there since the other side of the ceiling is the roof, yet a door which must have been there all the time, though I have somehow never noticed it before. I push the door open and see, contrary to all logic and experience, a passageway leading up to some kind of super-attic, and there is light, as they say, at the end of the tunnel. I am consumed with a desire to know what is up there, and, as well, somewhat worried because it's a narrow passage, and I'm not sure if I'll be able to return if I successfully negotiate it, but I decide to make the move. When I emerge from the passage I find myself in a room filled with the most extraordinary things: rare books, paintings and other works of art, beautiful furniture, clothing, fascinating family diaries. I understand that somehow all of these wonderful things were left there by those who lived in the house before me, and that they are, therefore, mine. And I say to myself in the dream: 'I could have gone on living in this house all of my life never knowing about any of this, and been quite happy. I never felt that there was anything lacking in my life. But now that I have discovered this, how can I pretend that it does not exist, and how can I not make it my own?' And then I wake up.
Unlike Pharaoh, I do not require a Joseph to explicate my dream or to explain why it came when it did. Since that day I have been exploring the attic, reading those books and diaries, reeling in the riches which are my own legitimate heritage, and sharing them with others. I will confess that some of the clothes in the attic do not look good on me, some of the furniture is not my style, but they may well be right for my children or theirs, and they will certainly know that they are also part of our inheritance….
Why and how do Jews connect with the tradition? How is it that some of us hear the music and others do not? … As Executive Director of Hillel at the University of Michigan, I realized it was what I, like a Zionist in 1948, had always dreamed about: a laboratory to see if the theories could be put into reality, a real community where the attic could be opened up and the entire house rebuilt. I've never looked back."
From His Letters of Support:
"An educator is able to meet a student where he or she is and show that person possibilities and paths that may not have seemed obvious. It is true that a person can be trained to be an educator, but like so many artists, a Jewish educator who has it in his soul is the most effective. Michael Brooks, an inspiring leader, educator, and 'artist,' a friend and mentor to many, has created such an environment at the University of Michigan. He has always been able to bring together diverse groups of Jewish individuals, whether they be students, community members, lay leaders, or faculty, and show them how to have an impact on the community and how to be the best Jews they can be. During the time when Hillel Foundations across the country were struggling to serve their campuses, Michael Brooks was empowering Jewish students at the University of Michigan to transform Hillel into the largest and most dynamic student-run organization on campus. It wasn't through marketing or by spending vast amounts of money, but by showing Jewish students how it is possible to connect with their Jewish identities while integrating their personal, spiritual, and political concerns with the Jewish community."
Dan Ginis, former student, colleague, mentee, friend
"Michael Brooks' first Law of Education is that no learning takes place until there is a problem.
Not that Michael seeks problems. He simply does not fear them. Instead, he exudes a warm sense of confidence that has a calming effect on those around him. For him, conflict does not present an obstruction: it offers a motivation for individual and communal change. As a trusted counselor, many students also look to Michael for help in personal conflicts. Michael is trusted for his ability to listen and to ask penetrating questions which may lead to unexpected solutions….
Michael teaches texts and historical issues related to Jewish identity at Hillel and around the country…. University of Michigan alumni have told me that each year during the high holidays, his words help students to feel at home and prepared to pray, perhaps for the first time, at high holiday services on campus….
Like many past recipients of the Covenant Award, Michael is an innovator with the gift of modesty. While I think of him as a great educator, he smiles and describes himself as an Air Traffic Controller, receiving students, guiding them, and setting them on their way. He knows that any time he walks across campus, he must allow a few extra minutes for spontaneous conversations with students. Once, he told me, he was walking from one appointment to another, and he saw a freshman standing on a campus bridge. Michael stopped for a few moments and after an exchange of pleasantries, Michael said to the student: 'The next four years are going to fly so quickly that at the end of your senior year you won't believe that you are already a senior. Whenever you go by this bridge, check yourself, ask how it's going.' At the end of the student's senior year, the student came to Michael, remembering the incident, and told him that, indeed, it had flown by so quickly that he barely had time to pause to think whenever he crossed the bridge. Yet, Michael's words had stayed with him and they taught him to value his education. Michael Brooks has this sort of lasting effect on people."
Rabbi Judd Kruger Levingston, former student, Wexner Graduate Fellowship Summer Institute