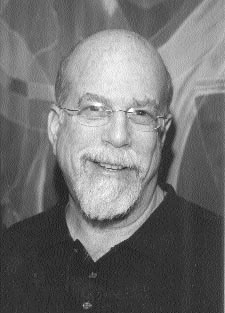 Mr. Jody Hirsh
Judaic Education Director
Harry and Rose Samson Family Jewish Community Center
Milwaukee, Wisconsin
Jody Hirsh began his long journey in Jewish education at age seven in Pittsburgh, PA, when he starred in his temple's annual Passover musical. He played a lamb bone and still recalls the show-stopping song he performed on that spring evening 51 years ago, set to the tune of "All of Me." The final lines were:
I stand alone,
A little lamb bone…
They nearly took
ALL OF ME!
That was the beginning of Jody's commitment to creativity, if not quirkiness, in Jewish education. As comfortable with the stage or art museum as with an advanced Bible class, Talmud shiur, or Hebrew novel, he has sought to make Jewish learning vital, fun, and meaningful.
While completing his B.A. at the University of Wisconsin, Jody taught Hebrew school at a local synagogue where he also wrote and produced plays with his grade-school aged students. His junior year abroad at the Hebrew University in Jerusalem was the spark that pushed him into Hebrew study and Jewish education as a formal career path. Jody's passion for Israel and for the Hebrew language pushed him to perfect his Hebrew and to study Hebrew literature in regular university classes rather than the special classes offered to foreign students.
Graduate study at UCLA in Modern Hebrew Literature gave him the academic tools to understand and teach Hebrew literature. While in Los Angeles, Jody taught at the Reform movement's Union Hebrew High School and the Conservative movement's Los Angeles Hebrew High School, as well as at HUC, the University of Judaism, and UCLA. In 1978, he attended the second Conference on Alternatives in Jewish Education. The influence of people at the cutting edge of education who were devoted to creativity in Jewish Education pushed him in the most creative direction. He became the coordinator of CAJE's first West Coast conference at UC Irvine and served on the CAJE board for six years.
Upon leaving Los Angeles, Jody became the Assistant Director of the San Francisco Bureau of Jewish Education, and later the Outreach Director of Lehrhaus Judaica, a Bay Area institution devoted to Adult Jewish Education. In San Francisco, he wrote "Seeing Double" with the San Francisco Mime Troupe—a slapstick musical comedy about the intifada—which had two national U.S. tours, one international tour, and won the prestigious OBIE Award. He left San Francisco for Jerusalem, where he was a Jerusalem Fellow specializing in Museum Education and where he wrote "The Great King Herod Murder Mystery," an interactive murder mystery still performed at Jerusalem's Migdal David Museum, making it Israel's longest running play.
From Jerusalem, Jody's education journey led him to Houston, where he was the Jewish Educator at the Houston JCC, then Hong Kong, where he was the Program Director of the Hong Kong JCC, and finally Milwaukee, where he is currently the Director of Judaic Education at the Milwaukee JCC. Who knows what's next?
From Jody Hirsh's Statements of Motivation and Purpose:
"I feel that JCCs are the major place where Jewish education happens in a truly pluralistic setting. The JCC model is one of group process, in which the learners and the community influence the direction of the educator in profound ways, which, of course, is part and parcel of one of the basic expressions of Jewish education: 'Much Torah have I learned from my teacher, more from my peers, and from my students most of all' (Babylonian Talmud, Makkot 10a).
"My primary goals of helping adult Jews find meaning and strengthening Jewish identity are fostered by my emphasis on four instrumental aspects of my educational approach:
"1. Critical Thinking: I consider my task more than simply giving students information. I want to help students find out for themselves how the information can be meaningful for them personally and how Jewish values and Jewish history can inform and affect their choices.
"2. Pluralism: Our sages have told us that there are seventy faces to the Torah. Perhaps my parameters for the varieties of opinions are larger, but respect for varying, even conflicting, points of view has been a key value of my work.
"3. The Arts: I believe passionately in text-centered Jewish education. However, my sense of text goes far beyond the sense of the Talmudic rabbis. Works of modern literature, drama, poetry, graphic art, and music need to be approached with a respect, intensity and diversity equal to the study of traditional texts.
"4. Creativity: We need to make sure that Jewish education is accessible to every Jew, even the media-conscious culturally aware Jews who might not approach the lecture hall or Talmud shiur. Jewish education, in this day and age, needs to combine traditional values and insights with the most creative ways of presenting those insights.
"In my early involvement with the creation of CAJE, I was a part of a group of young Jews who were passionate about Jewish education. We went to the halls of traditional Jewish learning with a message that the established institutions were out of touch with the Jewish world they were attempting to serve. Now I'm a middle-aged guy who has been working in Jewish education for almost 40 years. Where are the young Turks questioning me? How are the Jewish identities of younger Jews different than my own and how can I teach them, serve them, facilitate their learning?"
From his Letters of Nomination and Support:
"Jody has inspired children and adults literally throughout the world. In Los Angeles, presented with the teens least likely to succeed, Jody used dramatizations of Bible stories as a vehicle for involving students in text study. The student productions were analyzed as serious commentary, and because these students were treated with respect, they still communicate with the teacher who brought them to a life of Jewish learning and community involvement. In San Francisco, Jody further developed the medium of theater in education. His exploration of the Palestinian Intifada resulted in a play that expanded everyone's awareness. Jody Hirsh is often described as a 'Renaissance Man' because of the breadth and depth of his knowledge. He stands out as an exemplar of everything a Jewish educator has the potential to be."
Dr. Steven Baruch
Executive Director, Coalition for Jewish Learning
"Jody's personal commitment to Jewish ethics, his mastery of Jewish learning and unbounded creativity make him simply one of the most interesting Jewish educators of our time.
"When he was living in Jerusalem, Jody guided groups of Jewish educators through the most dry and seemingly boring rooms of the Israel Museum with such a sense of drama. There are few Jewish educators who could write a murder mystery in both Hebrew and English, let alone one of such quality that it is still used today. Jody can always be counted upon to write an original piece that will both educate and entertain.
"When BBYO needed someone to guide and educate a youth Passover trip to Bulgaria, Jody crammed Bulgarian Jewish history and phrases, inventing creative ways of connecting midwestern Jewish youth to their counterparts in Sofia. When the American Jewish Committee needs knowledgeable Jews to be involved in inter-religious and interethnic dialogues, Jody is there. Jody's Jewish journeys to China and Eastern Europe are sold out the minute they are announced. He is welcome in all Jewish settings because he truly embodies the trans-denominational spirit. He has truly become the most versatile Jewish educator in town."
Peggy Brill
Foundation and Non-Profit Organization Consultant
"Six years ago, when Jody Hirsh moved to Milwaukee to become our JCC educator, I felt the change in energy levels shortly after he arrived. Jody is always teaching. He offers formal classes in basic Judaism, Bible, the Jewish novel, Jewish art, Melton Adult Education at all levels, and a Jewish theater workshop. He is simply the most in-demand educator in Milwaukee. When he is not teaching, his Shabbat or holiday table is filled with the most interesting people in Milwaukee. The discussions are lively and his skill as a kosher chef renowned, so much so that at the Milwaukee Jewish Center's annual auction Jody's dinners cause a bidding war and bring in the largest single contributions. He has raised the water level so that entire community is more buoyant, lively, and engaged in exploration of the customs, culture and belief of our people."
Jerry Benjamin
Vice President, Milwaukee Jewish Federation
"Jody Hirsh's extraordinary creativity as a Jewish educator has manifested itself in many ways. Jody introduced to Hong Kong, a marginal Jewish community, a whole new array of programs and opportunities for engagement in Jewish life. He did so while navigating the dangerous waters of a highly politicized community. Adults who study with him emerge with an enthusiasm for Jewish knowledge that is transforming. Youth who encounter him are drawn to his playfulness, his imagination and his talent for seeing new textures and colors in this ancient tradition of Judaism. Colleagues in Jewish education are always challenged by a conversation with Jody and emerge with new ideas and insights."
Professor Sara S. Lee
Director, Rhea Hirsch School of Education, HUC-JIR