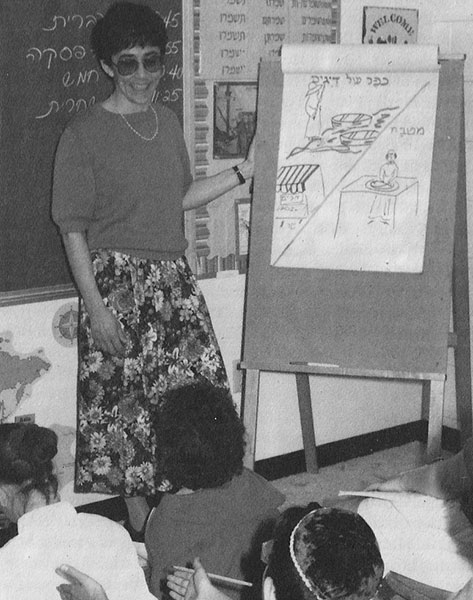 Marcia Lapidus Kaunfer is the daughter of two teachers. While still a child she dreamed of becoming a teacher, and later earned a bachelor's degree in Jewish education from Hebrew Teachers College and a bachelor of arts degree from Brandeis University. To make the bridge between general and Jewish education, and to bring to the Jewish classroom the latest teaching techniques, she enrolled as the first Jewish education major in Harvard's Master of Arts in Teaching program, earning her degree there in 1967. From 1966 to 1968 she taught at Temple Reyim Religious School of Newton, Massachusetts. In 1968, as an intern under the guidance of Rabbi Joseph Lukinsky, Marcia Kaunfer taught at Kehillath Israel Religious School in Brookline, the same school where she had been a Hebrew school student.
Between 1975 and 1985 she taught a variety of courses at Temple Emanuel and at the Bureau of Jewish Education of Providence, Rhode Island. Since 1983 she has taught grades five through eight at the Providence Alperin Schechter Day School. As one of its founders, she has seen that school grow from an idea into a place where 180 children in grades kindergarten through eight study, a place where her life is intertwined with the lives of those students and their families through her classroom teaching as well as through adult study and Shabbat and holiday celebration.
Ms. Kaunfer was chosen as one of the first of a group of Melton Center curriculum writers and teacher trainers, and has continued in that capacity for the past seventeen years. As part of that work she prepares curriculum materials, edits teachers' guides, conducts teacher workshops, and tapes teaching videos. She received the Goldberg Teaching Award for Innovative Teaching Materials in 1986 and the Louis Hilson Award from Hebrew College in 1990. She is featured as the master teacher in "The Genesis Project," a thirty-part video series produced by the Bureau of Jewish Education of Rhode Island and the Melton Center. This award-winning series demonstrates the finest teaching, in Ms. Kaunfer's classroom, of the Melton Center's Bible curriculum.
Marcia Lapidus Kaunfer's Statement of Motivation and Purpose:
"My parents were the first significant influence on my decision to choose Jewish teaching as a career. My parents' commitment to Jewish study and observance was the strongest force in my home. I have vivid memories of my father, who was self-taught Jewishly, sitting and studying the weekly portion. My mother, herself a student at the Hebrew Teachers' College, made my formal Jewish education paramount….
Rabbi Joseph Lukinsky taught me to expand the horizons of the classroom to combine text learning with communal responsibility. By the end of my internship year it seemed clear that for me Jewish education was the place to be. Certainly I felt it was the area in which I could make a difference. As I look back on that landmark year, I see in it the seeds of what was to become the focus of my teaching: a view of the classroom as the center for combining text study with creative methodology while emphasizing cooperative learning and Jewish values….
I see my work in Jewish education as taking place on various levels. Most important, I hope to be able, personally, to touch the lives of students in my own classroom and to help them to be independent enthusiastic learners of Jewish texts and values. For this reason I have elected to remain in the classroom and to make this the primary focus of my work…. "
From Her Letters of Support:
"Today the fifth grade begins. I sit behind my desk…. There are yellow, laminated signs hanging above the blackboard, signs stacked with Hebrew words…weird, scary words. Words I have never seen before, words with three X's in all of them! I begin to panic. I realize that I am lost already….Then she walks in. Short brown hair, square glasses, and a pleasant smile. Relief floods my system. I am saved. She opens her mouth to speak: 'Boker tov, talmidim.' Hebrew, what a language! It's so emotional, especially when you transferred into Solomon Schechter only last year!
The fifth grade would be a tough year for me, struggling each day to complete my transition into the observant Jewish community – a transition that would have been impossible without the help of Geveret (Mrs.) Kaunfer, a teacher different from all the rest. She had this method of creative teaching, utilizing every ounce of imagination….Geveret Kaunfer spurred a love for the Torah deep inside my heart….After fifth grade I began attending Shabbat services. It was a thrill to see Geveret Kaunfer in an environment other than a classroom. Her ears were the ones listening to my thoughts on the portion of the week, always willing to treat my juvenile ideas as something to be seriously considered. My education with Mrs. Kaunfer continued outside of school and Temple, right into her own home…and I've been a constant Shabbat afternoon 'guest' for many years now.
It wasn't until much later that I learned some of Geveret Kaunfer's most valuable secrets one summer at the Bureau of Jewish Education, in a wonderful room filled with cardboard, colorful markers, unlimited supplies of velcro, and of course…the infamous laminating machine.
I spent many more summers inventing the same types of games with the same equipment my mentor had used herself. I figured this to be the payback for my Jewish education…"
Joshua Schirfman (former student, now in the 12th grade)
"Marcia's impact goes beyond the appreciative teachers in our community and those who may see her work on the television series. As a curriculum writer for the Melton Research Center, she has written handbooks on Jewish holidays, Bible, and Rambam that are being used in classrooms across the country. Marcia davens in tallit and tefillin in the Alperin Schechter Day School minyan and has inspired a large number of alumnae to follow her example. One of her former students is now in the Senior Educator program at the Melton Center in Jerusalem. When someone asked Gail what her career plans were, she answered: 'I want to be another Mrs. Kaunfer.' What higher commendation can there be for a teacher?"
Carol K. Ingall