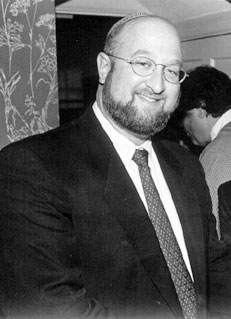 Rabbi Daniel Landau Lehmann was born and raised in Syracuse, New York. His father, of blessed memory, escaped Nazi Germany before World War II, while his mother grew up with deep family roots in the American Jewish community dating back to the early 1840s. Both of his parents were active leaders of their synagogues, Jewish federations, and other cultural and charitable institutions. As an adolescent, Daniel was passionately involved in music, theatre, and the Jewish community. He rose through the ranks of leadership in United Synagogue Youth, eventually serving as regional president. After graduating from public high school in 1980 he enrolled at Yeshivat Hamivtar in Jerusalem for a year of study. Led by Rabbi Chaim Brovender, Yeshivat Hamivtar opened up a new world of Jewish learning for Daniel. He decided to forgo his acceptance to the University of Chicago and enter Yeshiva University (YU) to continue the study of traditional Jewish texts.
At YU he first studied with the famed educator Rabbi Moshe Besdin and eventually progressed to attend the Talmud lectures of the great Rabbi Soloveitchik. Daniel immersed himself in the theological works of Rabbis S.R. Hirsch and J.B. Soloveitchik. Together with several professors and classmates, he struggled to discover new approaches to the synthesis of Torah and Western culture that forms the core of Modern Orthodoxy. His search for a more liberal, pluralistic Orthodoxy led him to study with Rabbi Irving Greenberg at the National Center for Learning and Leadership (CLAL) where Daniel served as a Rabbinic Intern and later as the Wexner Heritage Foundation Fellow. Rabbi Greenberg provided Daniel with a compelling theological and personal model of pluralism rooted in traditional Judaism.
During his last year in college, Daniel was chosen to coordinate a new college outreach program. Under his leadership, Kiruv developed an intellectually open and peer-led approach to engaging Jewish college students in serious Jewish study and experience. Toward the end of his rabbinical studies and graduate work in Jewish philosophy and history at Yeshiva University, Daniel followed his wife Lisa to Baltimore where she was entering medical school. He taught Jewish Studies at the Beth Tfiloh Community High School while simultaneously serving as an assistant rabbi for the Beth Tfiloh Congregation, a large, liberal Orthodox synagogue. At Beth Tfiloh, he received invaluable experience in the pulpit rabbinate and gained new skills as an educator and school administrator. After a sabbatical year at CLAL in New York, he returned to Baltimore in 1994 to assume the principalship of the Beth Tfiloh High School.
Two years later the opportunity to establish a pluralistic school in Boston enabled him to combine his passion for Jewish pluralism with his desire to create a new model for Jewish high school education. As founding headmaster of the New Jewish High School of Greater Boston (NJHS) and founding president of the North American Association of Jewish High Schools, he has helped generate the growing interest in pluralistic Jewish high schools. His vision for Jewish high school education focuses on rigorous textual study, religious pluralism, creativity in the arts, and social activism. The success of NJHS has served as a model for schools across the continent.
Daniel has maintained his commitment to adult Jewish learning through teaching for national and local adult educational programs, lecturing widely, and serving as the Scholar-in-Residence at the Boston Synagogue. He has also developed a serious interest in Jewish-Christian inter-religious learning. The proud father of Hillel, Elie, and Shira, Daniel is beginning doctoral work in Jewish Studies and Education at New York University in 2001.
From Rabbi Daniel Landau Lehmann's Statements of Motivation and Purpose:
"We are living in a moment of Jewish history that demands new ideas and great experiments in education. Many of the old forms and structures lack the capacity to capture the imagination of the present generation of Jews. The successful integration of Jews into the highest levels of American society, the demise of anti-Semitism, the withering of any compelling Zionist ideology, the rise of post-modernity, the development of a global consciousness, and the fluidity of personal and communal identities, create a moment rich in possibilities and filled with challenges. I want to be at the cutting edge of the sacred work needed to enable Jewish education to respond to the new cultural, religious, and intellectual realities that we face in this new era. Primarily, I see myself as an innovator; my passionate desire is to create new educational models for North American Jewry.
"I am privileged to have had many powerful Jewish experiences and role models that have shaped my commitment to the profession of Jewish education. Learning that I truly enjoyed teaching and leading other Jews set a course for my future work. And while the experiences and role models have been influential in my decision to become a Jewish educator, nothing has been more compelling than the profound exhilaration I have enjoyed in the study and teaching of Judaism. The study of Jewish texts and ideas has deepened my understanding of what it means to be a human being and a Jew. The fundamental experience of learning has been the source of great joy in my life. When new worlds of interpretation are uncovered while discussing a text, when religious and ethical insights are revealed in the discourse over a passage, I experience the presence of the Divine. At the same time, an intense community is formed through the discourse about matters of godly significance. In that community of Jewish conversation, I find a link to the past and the future of our people. Jewish education affords me the opportunity to constantly be engaged in what brings the most meaning to my life–Judaism. I want to share my love of Judaism with others and be nourished by the ancient dialogue about life's most serious questions.
"Currently, I am working with high school students in a day school setting. The high school years are critical for any new thinking about Jewish education. Young adolescents are often immersed in the core values of our society. And yet, they are also remarkably open and willing to take risks. Perhaps more than any other age group, high school students embody the tension between what is and what could be. The day school offers an environment that maximizes the potential to engage the whole person. The synergy created by the intersection of general and Jewish studies, the challenge of constructing daily experiences that contain spiritual depth, and the ability to forge an intense community on the basis of shared values are all present in the day school program. My goal is to explore the possibilities that emerge when the Jewish day high school takes seriously its unique position to construct new paradigms for Jewish living."
From his Letters of Nomination and Support:
"In a school such as the New Jewish High School, there is the ever lingering danger that ideas will be sacrificed rather than challenged, that one version of Judaism will dominate, or that one watered-down version will serve as a substitute for all. Because of Rabbi Lehmann's foresight and leadership, this is not the reality of the New Jewish High School."
Rachel Burstein
Student, The New Jewish High School "As an Orthodox rabbi, Danny has forged an environment where students feel safe to question. He has created meaningful tefilah opportunities so that students may choose to daven within their "comfort zone" or may try something different from what they experience in their home community. He has brought issues into the open and sought solutions both with the help of the school's committee structure and input from students. He is continually engaged in the struggle to find how a diverse community can come together in a spiritually meaningful way while still being respectful of the inherent differences."
Linda Greenseid
Community Member and President, Board of Trustees, The New Jewish High School
"Here is what I have learned from working with Danny Lehmann…. In addition to being passionate about building a community of Jewish educators whose work will be informed by 'the big questions' concerning Jewish life, he is extraordinarily bright….He is deeply at home in the literatures and ideas of Jewish Tradition and Western culture and is able to see and to show others how they jointly bear on whatever question is at hand. He is wonderfully imaginative, be it in the interpretation of a text or in the conceptualization of a program idea. His Solomonic good sense—programmatic, pedagogical or interpersonal—never seems to desert him, not even in very stressful circumstances….Though low-key, unpretentious and gentle, he is interpersonally very savvy, and he possesses that rare leadership characteristic often referred to as 'charisma,' infused, in his case, with unshowy and very genuine menschlichkeit."
Daniel Pekarsky
Professor, University of Wisconsin – Madison
"The New Jewish High School has succeeded beyond anyone's wildest imagination. It opened with fifty students in 1997, twice as many as expected, and its student body embraced a full Jewish spectrum….It is no exaggeration to state that none of this would have been possible without Rabbi Lehmann. Moreover, Rabbi Lehmann has established himself as the fountainhead of a whole movement of community-based Jewish high schools: across the country people interested in establishing parallel schools look to him for advice."
Jonathan D. Sarna
Professor, Brandeis University